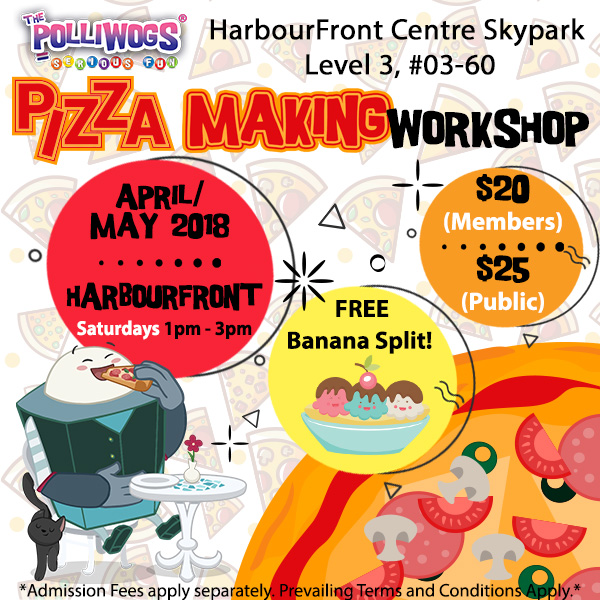 The Polliwogs #03-60/62
When: Saturdays in April & May 2018 (21 April, 28 April, 5 May, 12 May)
Time: 1pm – 3pm
Where: The Polliwogs @ HarbourFront Sky Park Level 3 (nearest Lobby D from HarbourFront)
Price: $25 for Public / $20 for Value Play Pass Members on top of admission fees.
What: For just $25 top-up on top of admission fee into The Polliwogs @ HarbourFront, join us for Larry's Pizza Making Workshop and enjoy UNLIMITED playtime too! Certificate of participation is included. Limited slots are available, register your child online now!
Kids will be able to perform hands-on pizza making and gain valuable learning about fun-facts of pizza along with a FREE Banana Split!
What's more, get to enjoy UNLIMITED PLAYTIME at our play arena right after the workshop! Limited vacancy available, Register NOW!
For more information, please call us at 63768097 or email polliwogsvc@thepolliwogs.com
Terms & Conditions:
1) Kindly present the confirmation email & Identification particulars for registration and verification purposes. Admission fee / deduction of Value Play Pass visit applies on-site.
2) If selected date and play centre reflected on the confirmation email does not tally, the play centre will not honor the admission.
3) Suitable for children 3yrs and above. Drop-off of kids are not allowed. Kindly take note that Unlimited Playtime is only applicable after the program.
4) We politely request that guests DO NOT arrive earlier than 15 minutes before 1pm.
5) Please be informed that there will be no refund in the event of no-show.
6) The Polliwogs reserves the right to cancel or amend the programs/activities without prior notice.
7) Strictly NO outside food/ snacks / drinks are allowed at all times.
8) Please be reminded that socks have to be worn at all times within The Polliwogs' premises. Should you forget to bring along your socks, socks can be purchased at the front counter.
9) Prevailing The Polliwogs' T&Cs applies.